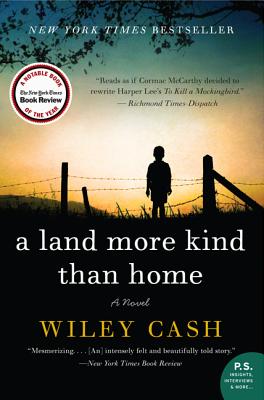 A Land More Kind Than Home: A Novel
Publication Date:
January 22nd, 2013
Publisher:
William Morrow Paperbacks
Description
In his phenomenal debut novel—a mesmerizing literary thriller about the bond between two brothers and the evil they face in a small North Carolina town—author Wiley Cash displays a remarkable talent for lyrical, powerfully emotional storytelling. A Land More Kind than Home is a modern masterwork of Southern fiction, reminiscent of the writings of John Hart (Down River), Tom Franklin (Crooked Letter, Crooked Letter), Ron Rash (Serena), and Pete Dexter (Paris Trout)—one that is likely to be held in the same enduring esteem as such American classics as To Kill a Mockingbird, Of Mice and Men, and A Separate Peace. A brilliant evocation of a place, a heart-rending family story, a gripping and suspenseful mystery—with A Land More Kind than Home, a major American novelist enthusiastically announces his arrival.
Praise for A Land More Kind Than Home: A Novel
"Mesmerizing . . . only Jess knows why his autistic older brother died on the very day he was taken into the church, and it's his voice that we carry away from this intensely felt and beautifully told story." — New York Times Book Review
"Cash adeptly captures the rhythms of Appalachian speech, narrating his atmospheric novel in the voices of three characters . . . The story has elements of a thriller, but Cash is ultimately interested in how unscrupulous individuals can bend decent people to their own dark ends." — Washington Post
"Absorbing . . . Cash uses well-placed flashbacks to flesh out his characters . . . and to illuminate a familiar truth of Southern lit: Many are the ways that fathers fail their sons." — Entertainment Weekly
"As lyrical, beautiful, and uncomplicated as the classic ballads of Appalachia, Cash's first novel is a tragic story of misplaced faith and love gone wrong . . . In a style reminiscent of Tom Franklin and John Hart, Cash captures the reader's imagination." — Library Journal (starred review)
"This book will knock your socks off. It's so good to read a first novel that sings with talent. Wiley Cash has a beautifully written hit on his hands." — Clyde Edgerton, author of The Night Train
"A riveting story! The writing is bold, daring, graceful, and engrossing." — Bobbie Ann Mason, author of In Country
"I try to state the truth and dislike flinging superlatives about with mad abandon, but I have been so deeply impressed by this novel that only superlatives can convey the tenor of my thought: this is one of the most powerful novels I have ever read." — Fred Chappell, author of Brighten the Corner Where You Are
"This novel has great cumulative power. Before I knew it I was grabbed by the ankle and pulled down into a full-blown Greek tragedy." — Gail Godwin, author of Evensong
"The first thing that struck me about Wiley's novel is the beautiful prose: the narrative is strong, clean, direct and economical. . . . I think this could be the beginning of a long, fruitful career." — Ernest J. Gaines, author of A Lesson Before Dying
"Cash's debut novel explores Faulkner-O'Connor country . . . As lean and spare as a mountain ballad, Cash's novel resonates perfectly, so much so that it could easily have been expanded to epic proportions. An evocative work about love, fate and redemption." — Kirkus Reviews
"A Land More Kind Than Home is a powerfully moving debut that reads as if Cormac McCarthy decided to rewrite Harper Lee's To Kill a Mockingbird." — Richmond Times-Dispatch
"A lyrical, poignant debut . . . In the mode of John Hart, Tom Franklin, and early Pat Conroy, A Land More Kind Than Home explores the power of forgiveness [and] the strength of family bonds." — Florida Sun-Sentinel
"Wiley Cash's novel embeds a tender coming-of-age story within a suspense-filled thriller. . . . [A] clear-sighted, graceful debut." — Atlanta Journal-Constitution
"So beautifully written that you'll be torn about how fast to read it. This is great, gothic Southern fiction." — NPR