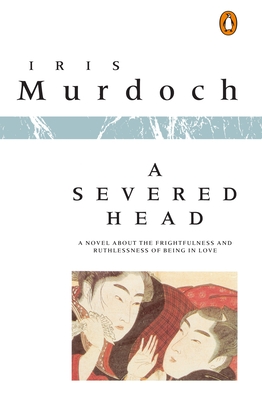 A Severed Head
Publication Date:
November 18th, 1976
Usually Ships in 1 to 5 Days
Description
A novel about the frightfulness and ruthlessness of being in love, from the author of the Booker Prize-winning novel The Sea, The Sea
Martin Lynch-Gibson believes he can possess both a beautiful wife and a delightful lover. But when his wife, Antonia, suddenly leaves him for her psychoanalyst, Martin is plunged into an intensive emotional reeducation. He attempts to behave beautifully and sensibly. Then he meets a woman whose demonic splendor at first repels him and later arouses a consuming and monstrous passion. As his Medusa informs him, "this is nothing to do with happiness."
A Severed Head was adapted for a successful stage production in 1963 and was later made into a film starring Claire Bloom, Lee Remick, Richard Attenborough, and Ian Holm.
About the Author
Dame Iris Murdoch (1919-1999) was one of the most acclaimed British writers of the twentieth century. Very prolific, she wrote twenty-six novels, four books of philosophy, five plays, a volume of poetry, a libretto, and numerous essays before developing Alzheimer's disease in the mid-1990s. Her novels have won many prizes: the James Tait Black Memorial Prize for The Black Prince, the Whitbread Literary Award for Fiction for The Sacred and Profane Love Machine, and the Booker Prize for The Sea, The Sea. She herself was also the recipient of many esteemed awards: Dame of the Order of the British Empire, the Royal Society of Literature's Companion of Literature award, and the National Arts Club's (New York) Medal of Honor for Literature. In 2008, she was named one of the London Times' 50 greatest British writers since 1945.
She was born in Dublin, Ireland, on July 15, 1919, the only child of Anglo-Irish parents. Her father was a bookish civil servant who had served as a cavalry officer during World War I; her mother had trained as an opera singer before marrying. The love of both literature and music instilled in her by her parents proved to be powerful formative influences, and she reportedly began writing at the age of nine. The family moved to London in Iris's childhood and she grew up in the western suburbs of Hammersmith and Chiswich. The 1940s saw Iris receive a first-class degree in classics from Oxford, briefly become a member of the Communist Party (from which she resigned in disappointment), work in Belgian and Austrian refugee camps for the United Nations Rehabilitation and Relief Program, and befriend Jean-Paul Sartre, on whom she wrote what was to be her first published work, a critical study entitled Sartre: Romantic Rationalist (1953). In 1947 she took up a postgraduate studentship at Cambridge, studying philosophy under none other than Ludwig Wittgenstein. The fruits of these philosophical encounters went on to form an important part of her fertile talent as a novelist.
With three previous novels unpublished, Murdoch made her fiction-writing debut in 1954. Under the Net is a picaresque existentialist adventure set in London and Paris's Left Bank that displays many of the traits for which her later work is so admired: a fast-paced plot, finely wrought settings, imaginatively developed characters, and a strong philosophical concern with moral issues and ethical crises. Surpassing the somewhat derivative existentialist strictures of this nevertheless stunning debut, Murdoch published almost a novel per year throughout the 1950s, '60s, and '70s and continued at a slightly less feverish pace throughout the '80s and early '90s. With each book, she displayed her unique talent for combining a lively, comic touch in characterization and plot with a serious concern for such profound themes as the nature of goodness and human freedom. A novelist and philosopher rolled into one, Iris Murdoch declared in her famous essay "Against Dryness" (1961) that literature "has taken over some of the tasks formerly performed by philosophy." However, she never allowed her novels or her characters to become abstract stand-ins for philosophical viewpoints, asserting in the same essay that the novel should be "a fit house for free characters to live in."
Producing romances such as The Sandcastle (1957), religious fables such as The Bell (1958), and fantasies such as The Unicorn (1963), she ranged widely across genres and settings. A Severed Head (1961)—later made into both a play and a film—takes on Jungian archetypes and Freud's theories about masculine sexuality, while in The Red and the Green (1965), Murdoch, in her only foray into historical fiction, delved into the 1916 Easter Rising in Dublin. Her calling cards became the intoxicating combination of love, marriage, adultery, sexuality, and religion, as well as the inventive use of gothic elements. In The Time of Angels (1966), for instance, the protagonist is an atheist Anglican priest in an impoverished inner-city parish who engages in black magic—and through whom Murdoch explored the central question of the role of morality after the death of God.
From the 1970s into the 1990s, international acclaim and recognition coincided with the publication of some of her finest work, including an experimental novel of love gone mad, The Black Prince (1973), her popular and highly esteemed The Sea, The Sea (1978), and a Platonic investigation of morality, Metaphysics as a Guide to Morals (1992), one of her most acclaimed nonfiction writings. Her last novel, Jackson's Dilemma (1995), was published just as Alzheimer's began to take its toll. She died in Oxford on February 8, 1999, survived by her husband, John Bayley.
Praise for A Severed Head
Praise for Iris Murdoch and A Severed Head:
"Murdoch was the rare kind of great, buoyant, confident writer who could drive the whole machine.  She was as in touch with animal instincts as intellectual ones. The scope of her vision makes you feel, when you are close to her fiction, that you have glimpsed the sublime." —Dwight Garner, The New York Times
"One of the great novels about the unknowability of others . . . Like a small diamond full of inclusions, it paradoxically depicts human life at its most crystallized and muddied." —The Millions 
"Combined a kind of dark mythological bent with a cerebral, talkative, psychologically misguided set of characters . . . Murdoch's prose is elegant, validating itself by its own certainty." —Susan Scarf Merrell, The New York Times
"In my late teens, A Severed Head and The Bell opened my eyes to another world.  I took them as a rather elegant form of social realism, and I loved the new world they opened up to me." —Mary Beard, Times Literary Supplement
"Beautifully and wittily written . . . [Murdoch is] a poetic novelist of great gifts." —Walter Allen, The New York Times 
"The is a comedy with that touch of ferocity about it which makes for excitement." —Elizabeth Jane Howard
"Immensely readable . . . Miss Murdoch is blessedly clever withour any of the aridity which, for some reason, that word is supposed to imply." —Philip Toynbee