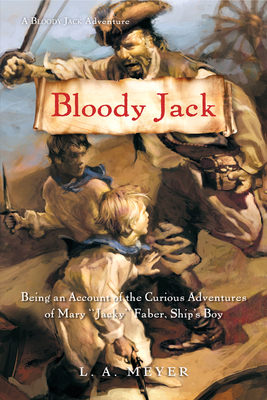 Bloody Jack: Being an Account of the Curious Adventures of Mary 'Jacky' Faber, Ship's Boy (Bloody Jack Adventures #1)
Publication Date:
June 10th, 2010
Usually Ships in 1 to 5 Days
Description
Life as a ship's boy aboard HMS Dolphin is a dream come true for Jacky Faber. Gone are the days of scavenging for food and fighting for survival on the streets of eighteenth-century London. Instead, Jacky is becoming a skilled and respected sailor as the crew pursues pirates on the high seas.
There's only one problem: Jacky is a girl. And she will have to use every bit of her spirit, wit, and courage to keep the crew from discovering her secret. This could be the adventure of her life--if only she doesn't get caught. . . .
Praise for Bloody Jack: Being an Account of the Curious Adventures of Mary 'Jacky' Faber, Ship's Boy (Bloody Jack Adventures #1)
* "A rattling good read." —Publishers Weekly, starred review   * "Although many fictional heroines have sailed in disguise before Jacky Faber, her coarse, cheeky street voice and naïve but observant take on shipboard life set her apart." —The Bulletin, starred review   "Marvelous. . . . A first-rate read." —Kirkus Reviews   A Booklist Editors' Choice  A Bulletin Blue Ribbon Book  A Junior Library Guild Selection  A New York Public Library Book for the Teen Age —