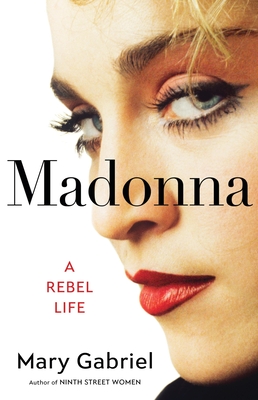 Madonna: A Rebel Life
Publication Date:
October 10th, 2023
Publisher:
Little, Brown and Company
Usually Ships in 1 to 5 Days
Description
New York Times Editors' Choice, One of NPR's Best Books of the Year
In this "infinitely readable" biography, award-winning author Mary Gabriel chronicles the meteoric rise and enduring influence of the greatest female pop icon of the modern era: Madonna (People Magazine)
With her arrival on the music scene in the early 1980s, Madonna generated nothing short of an explosion—as great as that of Elvis or the Beatles—taking the nation by storm with her liberated politics and breathtaking talent. Within two years of her 1983 debut album, a flagship Macy's store in Manhattan held a Madonna lookalike contest featuring Andy Warhol as a judge, and opened a department called "Madonna-land."
But Madonna was more than just a pop star. Everywhere, fans gravitated to her as an emblem of a new age, one in which feminism could shed the buttoned-down demeanor of the 1970s and feel relevant to a new generation. Amid the scourge of AIDS, she brought queer identities into the mainstream, fiercely defending a person's right to love whomever—and be whoever—they wanted. Despite fierce criticism, she never separated her music from her political activism. And, as an artist, she never stopped experimenting. Madonna existed to push past boundaries by creating provocative, visionary music, videos, films, and live performances that changed culture globally.
Deftly tracing Madonna's story from her Michigan roots to her rise to super-stardom, master biographer Mary Gabriel captures the dramatic life and achievements of one of the greatest artists of our time.
Praise for Madonna: A Rebel Life
"Exhaustive but infinitely readable . . . Gabriel meticulously chronicles the influences and endless evolutions of the groundbreaking performer"—People
"Madonna's career spanning pop, performance, dance, activism, fashion, film, photography and theater has been, by design, uncontainable . . . But Gabriel approaches the task with a rigor and ambition that matches Madonna's. She cuts to the heart of every album, tour, video, acting role and collaborator . . . Contextualizing this seismic star — at least by Gabriel's eye — is tantamount to documenting history broadly since 1958."—Jenn Pelly, Washington Post
"The perfect deep dive into an endlessly complicated celebrity. Gabriel traverses Madonna's many public personas, including Material Girl, Lady of the Manor and beatific mother of many, with grace and skill – and reflects on what she means as a pop culture doyenne."—Anastasia Tsioulcas, NPR
"A thoughtful biography of one of the most iconic entertainers of our time . . . Gabriel unfolds Madonna's life seamlessly . . . Fans and neophytes alike will come away with greater respect for an uncompromising artist."—Kirkus Reviews (starred)
"Thorough and engaging . . . Gabriel is a wonderfully empathic writer, attuned to emotional nuances as well as the public side of her complex subject, resulting in a minutely detailed, lushly evocative portrait as Madonna's story continues."—June Sawyers, Booklist (starred)
"Drawing on extensive research, Gabriel paints a satisfyingly nuanced portrait of a trailblazing musician who never shied away from controversy . . . The singer's myriad admirers won't be disappointed."—Publishers Weekly
"Gabriel's writing is unfussy and direct – the approach of a cultural historian rather than fan . . . the book leaves no stone unturned, and no song, music video, film, TV appearance, friendship or romantic liaison unanalysed, in its quest to understand the woman behind the global icon. This is Our Lady made flesh."—The Guardian UK
"This riveting biography follows the rise of one of the greatest pop performers."—San Francisco Bay Times
"Mary Gabriel, whose book Love and Capital was a finalist for the Pulitzer Prize and National Book Award, reintroduces us to Madonna in this exciting new biography by offering insights into major decisions Madonna made during her career and contextualizing how her music and activism shaped our culture."—Town & Country
"Gabriel's book is a meticulous history of an extraordinary trailblazer, a reappraisal that reminds current and future generations who didn't experience Madonna in real time why we should always celebrate her . . . A Rebel Life is Madonna's history as much as it is our own."—Chris Azzopardi, Pride Source
"Mary Gabriel eloquently tells the engrossing story of how Madonna combined music, dance, art, fashion, theater and pop stardom to develop a completely contemporary way to be an artist. It chronicles how her embrace of the artistic vanguard transformed popular culture."—Jeffrey Deitch, owner of the Jeffrey Deitch Gallery; former director of the Museum of Contemporary Art, Los Angeles (MOCA); and author of Art in the Streets
"A must-have for any (and every) Madonna fan."—Jim Piechota, The Bay Area Reporter
"Mary Gabriel's astonishing book with its pointillist detail feels fresh, surprising, vital, and necessary. It's thrilling to be reminded of how brave Madonna has been—to a fault! It doesn't matter where it springs from, because the results are the same: a singular, towering career that changed the culture."—Jonathan Van Meter, creator and founding editor-in-chief of Vibe magazine and author of The Last Good Time
"Mary Gabriel has dared to write a biography of a woman with whom the entire world is on a first-name basis. Here, she reveals Madonna as a rock-and-roll suffragette, managing the stress test of her personal life and using the power of music to bring about social change. Exquisitely detailed in her storytelling, Gabriel convinces us that we all still vogue in the House of Madonna."
 —Brad Gooch, author of City Poet: The Life and Times of Frank O'Hara and Flannery: A Life of Flannery O'Connor
Praise for Ninth Street Women:
"A gorgeous and unsettling narrative...Ninth Street Women is supremely gratifying, generous, and lush but also tough and precise -- in other words, as complicated and capacious as the lives it depicts...It's as if once Gabriel got started, the canvas before her opened up new vistas. We should be grateful she yielded to its possibilities."—Jennifer Szalai, New York Times
"Ninth Street Women is like a great, sprawling Russian novel, filled with memorable characters and sharply etched scenes. It's no mean feat to breathe life into five very different and very brave women, none of whom gave a whit about conventional mores. But Ms. Gabriel fleshes out her portraits with intimate details, astute analyses of the art and good old-fashioned storytelling."—Ann Landi, Wall Street Journal
"Ninth Street Women is a must read...Gabriel seamlessly weaves the intimate and the public, the lives and the art, making us feel we were there...It is a story that is a part of the American story, told here in vivid, meaningful detail, an absolutely pivotal text."—Margaret Randall, Women's Review of Books
"Gabriel's fascinating group portrait shimmers with vivid personal detail...She traces their interwoven paths from studio to Cedar Bar to the Eight Street loft known as the Club...Over time, Willem de Kooning outshone Elaine; Jackson Pollock eclipsed Krasner. Key contributions were erased...Gabriel makes sure these major artists who have been written out of history are not forgotten."—Jane Ciabattari, BBC.com
"Masterful. Mixing critical insight with juicy storytelling, Mary Gabriel brings five brilliant female painters to the fore of the art revolution that cut a wide swath in postwar America."—Patricia Albers, author of Joan Mitchell: Lady Painter