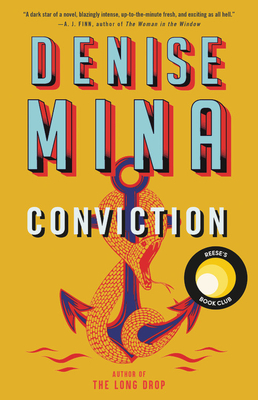 Conviction
Publication Date:
June 18th, 2019
Publisher:
Mulholland Books
Description
A true crime podcast sets a trophy wife's present life on a collision course with her secret past in this "blazingly intense" Reese Witherspoon book club pick and New York Times Best Crime Novel of the Year (A. J. Finn).
The day Anna McDonald's quiet, respectable life exploded started off like all the days before: Packing up the kids for school, making breakfast, listening to yet another true crime podcast. Then her husband comes downstairs with an announcement, and Anna is suddenly, shockingly alone.
Reeling, desperate for distraction, Anna returns to the podcast. Other people's problems are much better than one's own -- a sunken yacht, a murdered family, a hint of international conspiracy. But this case actually is Anna's problem. She knows one of the victims from an earlier life, a life she's taken great pains to leave behind. And she is convinced that she knows what really happened.
Then an unexpected visitor arrives on her front stoop, a meddling neighbor intervenes, and life as Anna knows it is well and truly over. The devils of her past are awakened -- and they're in hot pursuit. Convinced she has no other options, Anna goes on the run, and in pursuit of the truth, with a washed-up musician at her side and the podcast as her guide.
Conviction is "daredevil storytelling at its finest" (NPR's Fresh Air), a breathtaking thriller from one of the most "superbly talented" writers of our time (Hank Phillippi Ryan, bestselling author of Trust Me).
Praise for Conviction
"Endlessly surprising... This incredible novel...seems to have been written in a white-hot rage.... Mina has always written with a head full of ideas and a mouth full of tough talk. Here, she's finally got a story big enough to hold it all together."—Marilyn Stasio, New York Times Book Review -- Editors' Pick
"Daredevil storytelling at its finest . . . Offers plot twists and zig-zags that take readers on a wild ride. . . . A giddy celebration of the art of storytelling itself."—Fresh Air
"BOOK OF THE WEEK: Mina, queen of the Scottish crime novel, is in stellar form here."—People
"Conviction combines all [Mina's] gifts -- for suspense, humor, menace, sentiment -- in spectacular fashion."—Tom Nolan, Wall Street Journal
"A page-turner with depth and soul."—O, the Oprah Magazine
"Spectacular. If you, dear reader, can sanely spread your enjoyment of it out over, say, a week, you're a more disciplined consumer of suspense fiction than I am. I inhaled this novel in two extended sittings in one day."—Maureen Corrigan, The Washington Post
"Conviction feels as fresh as a fall breeze... I sat up VERY late reading this one, dazzled by how effortlessly Mina spun a complex web."—Moira Macdonald, Seattle Times
"[An] edgy but humorous crime novel."—Christian Science Monitor
"A wonderful mystery... Mina captures the podcast vibe with precision, even down to the annoyingly repetitive ads from sponsors, and the medium's aficionados are sure to love this twist on a standard thriller."—Shelf Awareness
"One of the most talented, most daring, most humane writers of the past twenty years, an artist whose thrillers double as bracing moral inquiries. You finish a Denise Mina novel feeling enriched and enhanced, as though you'd just discovered some new virtue within yourself, some new inspiration. Conviction is her finest work to date: a dark star of a novel, blazingly intense, up-to-the-minute fresh, and exciting as all hell. Yet again, I'm astounded."—A.J. Finn, author of The Woman in the Window
"Such a delight: playful, fast-paced, and entirely compulsive."—Ann Cleeves, author of the bestselling Shetland series
"Conviction is mesmerizing: a tightly woven thriller that deftly combines psychological suspense with dark humor and international intrigue. Once I started reading, I didn't want to stop. If you haven't read Denise Mina yet, you should, and this is the place to start."—Alafair Burke, New York Times bestselling author of The Better Sister
"[An] ingenious cheeky cracker of a thriller"—Minneapolis Star Tribune
"Elegant and amusing... The plotting... is both playful and dense."—Jack Batten, The Toronto Star
"An incredibly original book... A jet-setting thriller about an ordinary life suddenly turned electric."—Refinery29
"Spellbinding.... A metafictional marvel that both endorses and exemplifies the power of storytelling."—Publishers Weekly (starred review)
"Hip, cutting-edge, and ridiculously unpredictable, this brilliantly multilayered puzzle hooked me from page one. Denise Mina is superbly talented -- witty, original, and a mastermind of mystery. Absolutely terrific."—Hank Phillippi Ryan, national bestselling author of Trust Me
"Mina delivers another winner with this suspenseful, humorous, and surprisingly hopeful ode to storytelling."—Booklist (starred review)
"A compelling, complex thriller as
modern as tomorrow."—Kirkus Reviews (starred review)
"With a gutsy, endearing heroine and a wondrously surprising ending, this is highly recommended." —Library Journal (starred review, Editor's Pick)
"A deliciously clever premise that fully delivers"—BookPage
"With Conviction, Denise Mina has crafted a perfect puzzle, one that when pieced together shows a compelling and sharply funny picture of the darker side of fame, fortune, and today's social media-obsessed culture. The final product is as utterly enjoyable as it is timely. I couldn't put it down."—Kellye Garrett, Anthony, Agatha and Lefty Award-winning author of Hollywood Homicide
"A twisting, darkly comic, thrill-a-minute ride. If you loved Killing Eve, you'll devour Conviction."—Erin Kelly, author of the international bestseller He Said/She Said
"Denise Mina brilliantly manages to be funny, heart-wrenching, gut-punching and addictive all at once: A fabulous, captivating novel."—Nicci French, author of the international betseller Day of the Dead
"A ride full of turns I wasn't expecting.... If you like mysteries, true crime podcasts, and the past-is-coming-to-get-you novels, pick this one up."—Jamie Canaves, BookRiot
"A sparkling standalone . . . Mina underlines her versatile talents and doyenne status with a zesty tale imbued with plenty of up-to-the-minute issues. . . . There's a real verve to Mina's storytelling, which blends gut-punch moments with great characterization, a clever structure, and nice touches of black humor. Conviction is a whirlwind, in the finest way."—Craig Sisterson, Mystery Scene
"Mina is admired for her deft handling of questions of conscience and culture -- and women's responses to them -- as much as her ability to write a cracking story."—Libby Brooks, The Guardian [UK]
"A thriller that often evokes an almost Hitchcock-like air of paranoia, doubt, [and] double identities... with sinister train journeys and mordant wit."—Stuart Kelly, The Scotsman