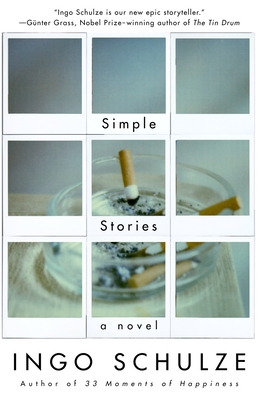 Simple Stories (Vintage International)
Publication Date:
April 9th, 2002
Usually Ships in 1 to 5 Days
Description
Prize-winning German writer Ingo Schulze's first novel, Simple Stories, is a marvel of storytelling and craft. Set in the East German town of Altenburg after the fall of the Berlin Wall, it deftly leaps among an array of confused characters caught in the crossroads of their country's history: a lovelorn waitress who falls for a visiting West German investor; an art historian turned traveling salesman; a former Communist official plagued by his past; an unsuccessful writer who asks his neighbor to break his leg so that he can continue to live on welfare.
Schulze skillfully intercuts an assortment of moving and comic vignettes about seemingly unconnected people, gradually linking them into an exhilarating whole of tidal unity and emotional force, until we see that all the time we have been reading a novel in glittering fragments, spun by a master. With a piercing eye for detail and a magical ear for dialogue, Schulze portrays the tragi-comedy of ordinary people caught up in the last great historical upheaval of the century.
Praise for Simple Stories (Vintage International)
"Ingo Schulze is our new epic storyteller." —Günter Grass, Nobel Prize-winning author of The Tin Drum
"[Simple Stories] explores the aftermath of living in what was perhaps the most spied-on society in history. . . . with snapshots of the confusion, insecurity and sorrow that accompany freedom." –Chicago Tribune

"Tremendously rewarding. . . . Schulze creates a precarious and affectionate backdrop against which his heroes struggle to live out their simple stories." –Los Angeles Times
"Wonderful…. Schulze is a baroquely expansive comic."–The New York Times Book Review