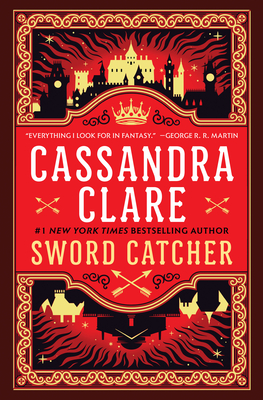 Sword Catcher
Publication Date:
October 10th, 2023
Usually Ships in 1 to 5 Days
I grew up reading Cassandra Clare. Here I am as an adult, reading her adult debut, a masterwork of worldbuilding and beautiful respect for her own history woven in.Sword Catcheris the next unstoppable force in the world of adult fantasy.
October 2023 Indie Next List
Description
NEW YORK TIMES BESTSELLER • Two outcasts find themselves caught in a web of forbidden love, dangerous magic, and dark secrets that could change the world forever in the start of a riveting epic fantasy series from the author of The Shadowhunter Chronicles.
"Everything I look for in fantasy."—George R. R. Martin

A POPSUGAR BEST BOOK OF THE YEAR
In the vibrant city-state of Castellane, the richest of nobles and the most debauched of criminals have one thing in common: the constant search for wealth, power, and the next hedonistic thrill.
Kel is an orphan, stolen from the life he knew to become the Sword Catcher—the body double of a royal heir, Prince Conor Aurelian. He has been raised alongside the prince, trained in every aspect of combat and statecraft. He and Conor are as close as brothers, but Kel knows that his destiny is to die for Conor. No other future is possible.
Lin Caster is one of the Ashkar, a small community whose members still possess magical abilities. By law, they must live behind walls within the city, but Lin, a physician, ventures out to tend to the sick and dying of Castellane. Despite her skills, she cannot heal her best friend without access to forbidden knowledge.
After a failed assassination attempt brings Lin and Kel together, they are drawn into the web of the mysterious Ragpicker King, the criminal ruler of Castellane's underworld. He offers them each what they want most; but as they descend into his world of intrigue and shadow, they discover a conspiracy of corruption that reaches from the darkest gutters of Castellane to the highest tower of its palaces. As long-kept secrets begin to unravel, they must ask themselves: Is knowledge worth the price of betrayal? Can forbidden love bring down a kingdom? And will their discoveries plunge their nation into war—and the world into chaos?
Praise for Sword Catcher
"Expert worldbuilding, swordplay, and politics, a colorful cast of characters, and a story that kept me reading from the first page to the last."—#1 New York Times bestselling author George R. R. Martin
"A gorgeously built world of decadence, betrayal, and grand adventure. From the decadent and drunken parties of the nobles, to the dens of crime lords in the Warren and Maze, to the Sault, where the devotees of a lost goddess are penned, the city of Castellane makes the perfect backdrop for a delightful cast of characters to befriend, betray, and romance one another. This is Cassandra Clare at her cleverest, twistiest and most heart-stopping—a triumph of a book."—Holly Black, New York Times bestselling author of The Book of Night
"Clare plunges us into a thrilling world built with precision and brimming with enchantment. Her spellbinding cast of outlaws, healers, royals, and rogues will have you questioning your allegiances with every delicious turn of the plot. This is fantasy at its finest."—Leigh Bardugo, #1 New York Times bestselling author of Hell Bent
"Sweeping yet intimate, rich with romance and intrigue, Sword Catcher is Cassandra Clare at her magical best. In pages packed with sumptuous descriptions, Clare gives us a kingdom's worth of characters—including Kel the 'sword catcher,' trained to protect his prince at all costs, and Lin, a young physician of an outcast people—forced to navigate a web of tangled loyalties between the loved ones they cherish and the powers they serve. This book will break your heart and leave you wanting more!"—Helene Wecker, New York Times bestselling author of The Golem and the Jinni
"A sumptuous feast of a book, vivid and delicious and heady. Cassandra Clare's trademark skills are on full display here: epic worlds, wrenching romances, heart-slamming plot twists, Dickensian characters. I can't wait to visit Castellane again."—Kelly Link, bestselling author of White Cat, Black Dog
"A charming return to the big fat fantasy novels of happy memory, with a modern character-driven narrative. Vivid and clever."—Scott Lynch, bestselling author of the Gentleman Bastard sequence