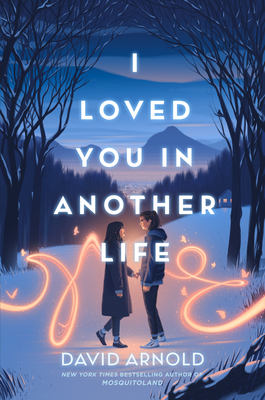 I Loved You in Another Life
Publication Date:
October 10th, 2023
Publisher:
Viking Books for Young Readers
Usually Ships in 1 to 5 Days
Description
New York Times bestseller David Arnold returns with a poignant love story about two teens whose souls come together time and again through the ages—for fans of Nina LaCour and Matt Haig.
Evan Taft has plans. Take a gap year in Alaska, make sure his little brother and single mother are taken care of, and continue therapy to process his father's departure. But after his mom's unexpected diagnosis, as Evan's plans begin to fade, he hears something: a song no one else can hear, the voice of a mysterious singer . . .
Shosh Bell has dreams. A high school theater legend, she's headed to performing arts college in LA, a star on the rise. But when a drunk driver takes her sister's life, that star fades to black. All that remains is a void—and a soft voice singing in her ear . . .
Over it all, transcending time and space, a celestial bird brings strangers together: from an escaped murderer in 19th century Paris, to a Norwegian kosmonaut in low-earth orbit, something is happening that began long ago, and will long outlast Evan and Shosh. With lyrical prose and original songs (written and recorded by the author), I LOVED YOU IN ANOTHER LIFE explores the history of love, and how some souls are meant for each other—yesterday, today, forever.
Praise for I Loved You in Another Life
Praise for I Loved You in Another Life
"I LOVED YOU IN ANOTHER LIFE will have your soul soaring! With unmatched lyricism, David Arnold has written a timeless love saga for the ages about two teens whose love outlasts even death itself. I love this book so much." —Adam Silvera, #1 New York Times bestselling author of They Both Die at the End
 
"Can the power of love follow us from one life to the next? I LOVED YOU IN ANOTHER LIFE dares to say yes. The funniest, saddest, most romantic book on earth." —Becky Albertalli, #1 New York Times bestselling author of Simon vs. the Homo Sapiens Agenda
 
"With every book, David Arnold's prodigious imagination expands the bounds of storytelling and how we relate to each other. I LOVED YOU IN ANOTHER LIFE is a stirring, lyrical, and breathtakingly ambitious ode to love that endures across ages." —Jeff Zentner, award-winning author of The Serpent King

*"In this powerfully heartbreaking speculative love story by Arnold (The Electric Kingdom), two teens are inexplicably drawn to each other across all their previous lives . . . Arnold's prose is both lyrical and devastating ("Love had run through this house like blood through a vein"), and the narrative's focus on love and its apparent inevitability helps to lighten the intense tragedies the characters face."—Publishers Weekly, starred review