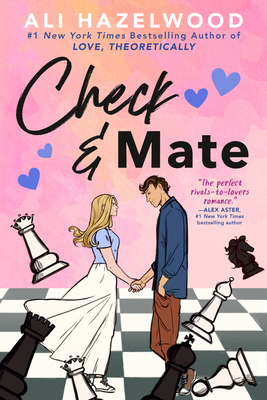 Check & Mate
Publication Date:
November 7th, 2023
Publisher:
G.P. Putnam's Sons Books for Young Readers
Usually Ships in 1 to 5 Days
Ali Hazelwood's young adult debut delivers an exciting ride of rediscovery and second chances. The love story is of course, swoon-worthy, but what really shines is Mallory's journey back to her joy with support from her family and friends.
November/December 2023 Kids' Indie Next List
Description
In this clever and swoonworthy YA debut from the New York Times bestselling author of The Love Hypothesis, life's moving pieces bring rival chess players together in a match for the heart.
Mallory Greenleaf is done with chess. Every move counts nowadays; after the sport led to the destruction of her family four years earlier, Mallory's focus is on her mom, her sisters, and the dead-end job that keeps the lights on. That is, until she begrudgingly agrees to play in one last charity tournament and inadvertently wipes the board with notorious "Kingkiller" Nolan Sawyer: current world champion and reigning Bad Boy of chess.
Nolan's loss to an unknown rook-ie shocks everyone. What's even more confusing? His desire to cross pawns again. What kind of gambit is Nolan playing? The smart move would be to walk away. Resign. Game over. But Mallory's victory opens the door to sorely needed cash-prizes and despite everything, she can't help feeling drawn to the enigmatic strategist....
As she rockets up the ranks, Mallory struggles to keep her family safely separated from the game that wrecked it in the first place. And as her love for the sport she so desperately wanted to hate begins to rekindle, Mallory quickly realizes that the games aren't only on the board, the spotlight is brighter than she imagined, and the competition can be fierce (-ly attractive. And intelligent…and infuriating…)
Praise for Check & Mate
Praise for Check & Mate
A Best Book of 2023 for NPR, Kobo, and Amazon

"Ali Hazelwood is the queen of smart rom-coms, and Check & Mate is her best book yet. Filled with snappy banter, clever characters, and crackling tension (and lots of chess!), this is the perfect rivals-to-lovers romance. Check & Mate will have you swooning, laughing, staying up all night, and smiling so much your face hurts. This book is my new obsession. Who knew chess could be so romantic?" —Alex Aster, #1 New York Times bestselling author of Lightlark 

"Ali Hazelwood brings her signature wit to YA and the result is nothing short of delightful! Check & Mate stole my heart from the first page — it's at once an irresistible romance, compelling character study, and fascinating peek into the world of chess. I couldn't put it down!" —Rachel Lynn Solomon, New York Times bestselling author of We Can't Keep Meeting Like This 
"Ali Hazelwood is a known master of deeply clever, ridiculously satisfying 'JUST KISS ALREADY!!' slow burns, and this book is all of that and so much more. Readers are going to ship Mallory and Nolan hard enough to break their sails. If you're not ready to swoon and gasp and cackle in front of strangers, read this book in public at your own risk." —Emma Lord, New York Times bestselling author of When You Get the Chance
★ "Filled with the author's signature humor, well-developed characters, and realistic conflicts, plus the fully realized setting of competitive chess, this captivating romance will delight teen readers as well as Hazelwood's adult fans." —Kirkus Reviews, starred review
★ "Hazelwood has captured many a reader's heart with her adult rom-coms. Now, she makes her YA debut with a story that sparkles with her signature wit and relatable characters. . . . This highly enjoyable, emotion-filled romance will attract teens and even loyal fans of her adult novels as it blends wit and wisdom with love's tendency to make pawns of us all." —Booklist, starred review
"Hazelwood (Love, Theoretically, for adults) makes a seamless transition into YA romance with this well-researched read. Via Mallory and Nolan's complementary personalities and complex histories, Hazelwood crafts a feminist rendering that shedslight on sexist views within the world of competitive chess, all while spinning a swoon-worthy romance." —Publishers Weekly
"Ali Hazelwood is a Grandmaster of romance. Check and Mate is so delightfully hilarious that you won't see the play coming before Hazelwood steals your bishop, sneaks by your defenses, and checkmates your heart. A charming riot of a YA debut! Ali Hazelwood has never let me down!"—New York Times bestselling author Ashley Poston
"It's the YA romance I have been starving for and truly, only Ali Hazelwood could deliver. Wickedly smart, highly addictive, fun and emotional all wrapped in a wonderfully heart-clutching book. I can't stop, won't stop screaming about this one!"—Susan Lee, author of Seoulmates