Discounted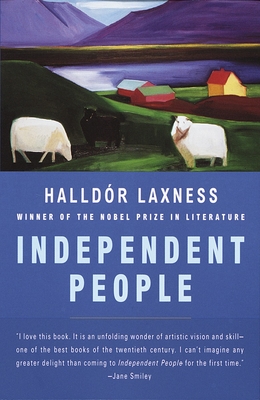 Independent People (Vintage International)
Previous price:

$20.00
Current price:

$18.00
Publication Date:
January 14th, 1997
Usually Ships in 1 to 5 Days
Description
From the Nobel Prize-winning Icelandic author: a magnificent novel that recalls Iceland's medieval epics and classics, set in the early twentieth century starring an ordinary sheep farmer and his heroic determination to achieve independence. • "A strange story, vibrant and alive…. There is a rare beauty in its telling." —Atlantic Monthly

If Bjartur of Summerhouses, the book's protagonist, is an ordinary sheep farmer, his flinty determination to free himself is genuinely heroic and, at the same time, terrifying and bleakly comic.
Having spent eighteen years in humiliating servitude, Bjartur wants nothing more than to raise his flocks unbeholden to any man. But Bjartur's spirited daughter wants to live unbeholden to him. What ensues is a battle of wills that is by turns harsh and touching, elemental in its emotional intensity and intimate in its homely detail. Vast in scope and deeply rewarding, Independent People is a masterpiece.
Praise for Independent People (Vintage International)
"Reader rejoice! At last this funny, clever, sardonic and brilliant book is back in print. Independent People is one of my Top Ten Favourite Books of All Time." —Annie Proulx
"There are good books and there are great books and there may be a book that is something still more: it is the book of your life. . . . My favorite book by a living novelist is Independent People." —Brad Leithauser
"I love this book. It is an unfolding wonder of artistic vision and skill—one of the best books of the twentieth century. I can't imagine any greater delight than coming to Independent People for the first time." —Jane Smiley
"This beautiful and heartbreaking novel has haunted me ever since I was lent a rare copy years ago, and I am delighted that what is clearly a masterpiece by a relatively uncelebrated genius will now be available to a wide audience of book lovers. If there is any justice in the world, the name Laxness will soon become a household word, at least in those households where timeless works of the imagination are cherished." —Joel Conarroe
"Laxness has a poet's imagination and a poet's gift for phrase and symbol. . . . Bjartur is a magnificent and complex symbol of peasant independence." —The New York Times Book Review
"A strange story, vibrant and alive. . . . There is a rare beauty in its telling, a beauty as surprising as the authentic strain of poetry that lies in the shoving, battering Icelander." —Atlantic Monthly

"A saga that somehow contrives to recapture the broad, clear air of older Icelandic tales." —The Observer (London)
"[Laxness] gives a large picture of life under primitive conditions, [he] writes vividly, using irony with vigorous effect; amid the brutality and squalor there are rich moments of humor and poetry." —The Spectator (London)