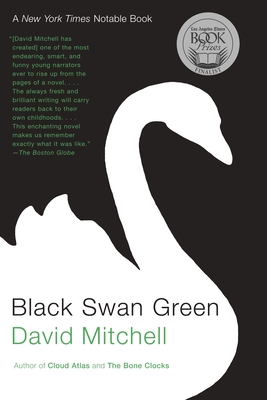 Black Swan Green: A Novel
Publication Date:
February 27th, 2007
Publisher:
Random House Trade Paperbacks
Usually Ships in 1 to 5 Days
Description
By the New York Times bestselling author of The Bone Clocks and Cloud Atlas | Longlisted for the Man Booker Prize
Selected by Time as One of the Ten Best Books of the Year | A New York Times Notable Book | Named One of the Best Books of the Year by The Washington Post Book World, The Christian Science Monitor, Rocky Mountain News, and Kirkus Reviews | A Los Angeles Times Book Prize Finalist | Winner of the ALA Alex Award | Finalist for the Costa Novel Award
From award-winning writer David Mitchell comes a sinewy, meditative novel of boyhood on the cusp of adulthood and the old on the cusp of the new.
Black Swan Green tracks a single year in what is, for thirteen-year-old Jason Taylor, the sleepiest village in muddiest Worcestershire in a dying Cold War England, 1982. But the thirteen chapters, each a short story in its own right, create an exquisitely observed world that is anything but sleepy. A world of Kissingeresque realpolitik enacted in boys' games on a frozen lake; of "nightcreeping" through the summer backyards of strangers; of the tabloid-fueled thrills of the Falklands War and its human toll; of the cruel, luscious Dawn Madden and her power-hungry boyfriend, Ross Wilcox; of a certain Madame Eva van Outryve de Crommelynck, an elderly bohemian emigré who is both more and less than she appears; of Jason's search to replace his dead grandfather's irreplaceable smashed watch before the crime is discovered; of first cigarettes, first kisses, first Duran Duran LPs, and first deaths; of Margaret Thatcher's recession; of Gypsies camping in the woods and the hysteria they inspire; and, even closer to home, of a slow-motion divorce in four seasons.
Pointed, funny, profound, left-field, elegiac, and painted with the stuff of life, Black Swan Green is David Mitchell's subtlest and most effective achievement to date.
Praise for Black Swan Green
"[David Mitchell has created] one of the most endearing, smart, and funny young narrators ever to rise up from the pages of a novel. . . . The always fresh and brilliant writing will carry readers back to their own childhoods. . . . This enchanting novel makes us remember exactly what it was like."—The Boston Globe
"[David Mitchell is a] prodigiously daring and imaginative young writer. . . . As in the works of Thomas Pynchon and Herman Melville, one feels the roof of the narrative lifted off and oneself in thrall."—Time
Praise for Black Swan Green: A Novel
"[David Mitchell has created] one of the most endearing, smart, and funny young narrators ever to rise up from the pages of a novel. . . . The always fresh and brilliant writing will carry readers back to their own childhoods. . . . This enchanting novel makes us remember exactly what it was like."—The Boston Globe
 
"[David Mitchell is a] prodigiously daring and imaginative young writer. . . . As in the works of Thomas Pynchon and Herman Melville, one feels the roof of the narrative lifted off and oneself in thrall."—Time
 
"[A] brilliant new novel . . . In Jason, Mitchell creates an evocation yet authentically adolescent voice."—The New York Times Book Review
 
"Alternately nostalgic, funny and heartbreaking."—The Washington Post
 
"Great Britain's Catcher in the Rye—and another triumph for one of the present age's most interesting and accomplished novelists."—Kirkus Reviews (starred review)
 
"This book is so entertainingly strange, so packed with activity, adventures, and diverting banter, that you only realize as the extraordinary novel concludes that the timid boy has grown before your eyes into a capable young man."—Entertainment Weekly