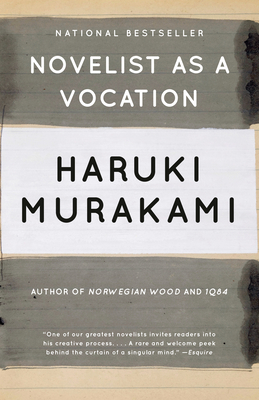 Novelist as a Vocation
Publication Date:
November 7th, 2023
Usually Ships in 1 to 5 Days
Description
NEW YORK TIMES BEST SELLER • An insightful look into the mind of a master storyteller—and a unique look at the craft of writing from the beloved and best-selling author of 1Q84, Norwegian Wood, and What I Talk About When I Talk About Running.
"Murakami is like a magician who explains what he's doing as he performs the trick and still makes you believe he has supernatural powers" —New York Times Book Review
Aspiring writers and readers who have long wondered where the mysterious novelist gets his ideas and what inspires his strangely surreal worlds will be fascinated by this engaging book from the internationally best-selling author. Haruki Murakami now shares with readers his thoughts on the role of the novel in our society; his own origins as a writer; and his musings on the sparks of creativity that inspire other writers, artists, and musicians.
Here are the personal details of a life devoted to craft: the initial moment at a Yakult Swallows baseball game, when he suddenly knew he could write a novel; the importance of memory, what he calls a writer's "mental chest of drawers"; the necessity of loneliness, patience, and his daily running routine; the seminal role a carrier pigeon played in his career and more.
Praise for Novelist as a Vocation
Named one of the best books of the year by Esquire, Open the Magazine
"[A] very personal guide to fiction writing peppered with biography and opinion, contains a handful of strange, and strangely revealing, moments...Novelist As a Vocation is a series of intriguing glimpses inside the singular mind of Murakami" --Sean O'Hagan, The Guardian
"Haruki Murakami's splendid second memoir of sorts...Novelist as a Vocation is an indispensable contribution to understanding Murakami's astounding mind and method. It shows what makes Murakami run — on the street and on the page." --Robert Allen Papinchak, Los Angeles Review of Books

★ "Murakami has written 14 acclaimed novels, including Hear the Wind Sing, Kafka on the Shore, Norwegian Wood, and his best-selling IQ84; dozens of short stories; and over a dozen books of essays and other nonfiction...Novelist is indeed his true vocation, and in this collection of 11 interconnected essays, he tells would-be fiction writers, struggling novelists, and his many devoted readers about the path he's followed and the ideas and thoughts he's had in the process...Although this is a concrete and practical guide, as Murakami intended, it is also a fascinating personal and professional memoir." --Marcia Welsh, Library Journal (starred review)
"In this winsome volume, one of our greatest novelists invites readers into his creative process. The result is a revealing self-portrait that answers many burning questions about its reclusive subject, like: where do Murakami's strange and surreal ideas come from? When and how did he start writing? How does he view the role of novels in contemporary society? Novelist as a Vocation is a rare and welcome peek behind the curtain of a singular mind." --Adrienne Westenfeld, Esquire ("The Best Books of Fall 2022")
"[A] very personal guide to fiction writing peppered with biography and opinion, contains a handful of strange, and strangely revealing, moments...Novelist As a Vocation is a series of intriguing glimpses inside the singular mind of Murakami" --Sean O'Hagan, The Guardian
★ "[Murakami]...reveals the tricks of the trade in this stellar essay collection...Lighthearted yet edifying, the anecdotes make for a fantastic look at how a key literary figure made it happen. Murakami's fans will relish these amusing missives." --Publishers Weekly (Starred Review)
"....a lively collection of 11 essays...Amidst these challenges to prevailing wisdom, Murakami describes the path that led him to become a novelist, and offers plentiful insights into his craft, including his three requirements on what constitutes originality, the habits aspiring writers should follow, the factors he considers when determining the length and form of each work, and more....This genial collection offers one writer's perspective on how they got that way." —Michael Magras, Shelf Awareness
"...a delightful volume on how to be a successful author...Murakami is a modern treasure." —Chris Rutledge, Washington Independent Review of Books