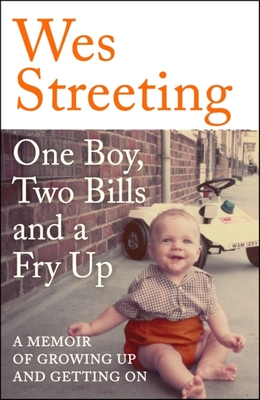 One Boy, Two Bills and a Fry Up: A Memoir of Growing Up and Getting On
Publication Date:
October 10th, 2023
Publisher:
Hodder & Stoughton
Usually Ships in 1 to 5 Days
Description
The Sunday Times bestseller
***
'[A] compelling story of overcoming adversity... Unexpectedly fascinating... amazingly inspiriting...' --- The Observer
'...the vitality of the book lies in its directness and conversational candour... An engaging memoir' --- The Sunday Times
'Extraordinary' --- Evening Standard
'Funny, honest and at times heart-breaking - a terrific read.' --- Lorraine Kelly
'For a politician to have such an extraordinary story to tell is rare. For that politician to be able to tell it with such eloquence and benevolence is rarer still. This book is a triumph.' --- Alan Johnson
'This riveting tale of social aspiration leads us from the East End to Westminster in detailed honesty.' --- Ian McKellen
'A moving and inspiring hymn to the ups and downs of life - to love, to adversity and above all courage.' ---Michael Cashman
'Compulsive reading: Wes's story is inspiring, surprising and full of compassion.' --- Jess Phillips
'A remarkable and enchanting book.' --- The House
'One of the most extraordinary memoirs that I have read.' ---Lewis Goodall, The News Agents
'Searingly honest... a really inspirational book.' --- Iain Dale
Wes Streeting might have ended up in prison rather than in parliament. His maternal grandfather Bill, an unsuccessful armed robber, spent time behind bars, as did his grandmother, who was also a political campaigner.
Brought up on a Stepney council estate, the young Streeting saw his teenage parents struggle to provide for him. In One Boy, Two Bills & A Fry Up he brings to life the poverty, humiliation and incredible struggle for them choosing whether to feed the meter and heat the flat, put carpet on the floor, or food on the table.
Wes Streeting knows it was the help and inspiration he received from the great characters that surrounded him, especially his paternal grandfather (also called Bill), that ultimately set him on the way to Cambridge and then Parliament. He knew he could draw on the strengths in childhood to eventually come out, and to go on and face his now successful struggle with kidney cancer.
This honest, uplifting, affectionate memoir is a tribute to the love and support which set him on his way out of poverty, and informs everything about Wes Streeting's mission now in politics.