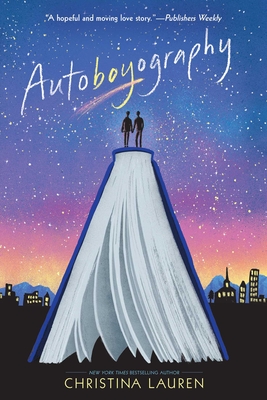 Autoboyography
Publication Date:
August 28th, 2018
Publisher:
Simon & Schuster Books for Young Readers
Usually Ships in 1 to 5 Days
Description
"This book is epic." —Cosmopolitan
"A hopeful and moving love story." —Publishers Weekly
Fangirl meets Simon vs. the Homo Sapiens Agenda in this "sensitive and complex" (BCCB) coming-of-age novel from New York Times bestselling author Christina Lauren about two boys who fall in love in a writing class—one from a progressive family and the other from a conservative religious community.
Three years ago, Tanner Scott's family relocated from California to Utah, a move that nudged the bisexual teen temporarily back into the closet. Now, with one semester of high school to go, and no obstacles between him and out-of-state college freedom, Tanner plans to coast through his remaining classes and clear out of Utah.
But when his best friend Autumn dares him to take Provo High's prestigious Seminar—where honor roll students diligently toil to draft a book in a semester—Tanner can't resist going against his better judgment and having a go, if only to prove to Autumn how silly the whole thing is. Writing a book in four months sounds simple. Four months is an eternity.
It turns out, Tanner is only partly right: four months is a long time. After all, it takes only one second for him to notice Sebastian Brother, the Mormon prodigy who sold his own Seminar novel the year before and who now mentors the class. And it takes less than a month for Tanner to fall completely in love with him.
Praise for Autoboyography
"Once again writing as Lauren, Christina Hobbs and Lauren Billings (The House) tackle religion, identity, and sexuality, seamlessly interweaving Tanner's Seminar project, his crush on Sebastian, and the fallout when Sebastian's feelings conflict with his church's expectations of him. A hopeful and moving love story."
— Publishers Weekly
"Manages to tackle the intricacies of sexuality versus organized religion in an intense but ultimately inspirational narrative. Lauren successfully tackles a weighty subject with both ferocity and compassion."
— Booklist
"Readers will cheer for Tanner's confidence in his sexual identity and for the quality bi representation he provides. Satisfying."
— Kirkus Reviews
"This sensitive and complex story is as much about finding love as it is about finding and accepting oneself....The text deals sensitively with serious issues, especially Sebastian's grappling with his sexuality in the context of a stifling Mormon upbringing, but it's also hilarious and relatable. Readers will enjoy seeing Tanner find his voice."
— Bulletin of the Center for Children's Books
"An impressively balanced approach to writing about the conflict between sexuality and strict religion. Members of the Mormon church are not painted as one-dimensional villains, but as multifaceted individuals with merits and faults....The teenagers are modern and relatable and the plot is emotionally engaging without becoming dark. VERDICT A thoughtful variation on the traditional high school LGBTQ+ romance"
— School Library Journal