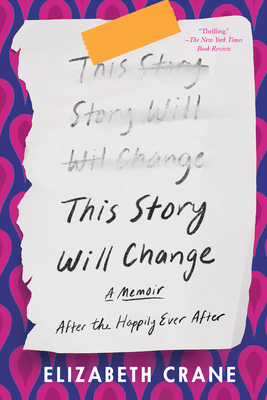 This Story Will Change: After the Happily Ever After
Publication Date:
August 15th, 2023
Usually Ships in 1 to 5 Days
Elizabeth Crane's memoir exploring the end of her marriage and the beginning of a new platonic relationship is gorgeous. Her forms capture what it's like to revisit old memories that might not be accurate. A beautiful one-sitting read.
August 2022 Indie Next List
Description
Rachel Cusk meets Nora Ephron in this intimate and evolving portrait about the end of a marriage and how life can fall apart and be rebuilt in wonderful and surprising ways
"Thrilling." —The New York Times Book Review
One minute Elizabeth Crane and her husband of fifteen years are fixing up their old house in Upstate New York, finally setting down roots after stints in Chicago, Texas, and Brooklyn, when his unexpected admission—I'm not happy—changes everything. Suddenly she finds herself separated and in couples therapy, living in an apartment in the city with an old friend and his kid. It's understood that the apartment and bonus family are temporary, but the situation brings unexpected comfort and much-needed healing for wounds even older than her marriage. 
Crafting the story as the very events chronicled are unfolding, Crane writes from a place of guarded possibility, capturing through vignettes and collected moments a semblance of the real-time practice of healing. At turns funny and dark, with moments of poignancy, This Story Will Change is an unexpected and moving portrait of a woman in transformation, a chronicle of how even the stories we tell ourselves about ourselves are bound to change.
Praise for This Story Will Change: After the Happily Ever After
"Thrilling." —The New York Times Book Review
"In This Story Will Change, [Crane] uses fragments, memory, humor, and kaleidoscopic prose to tell a story that beautifully navigates the challenges and eventual joys that come with deep emotional rupture." —Sarah Neilson, Shondaland
"At turns funny and dark, This Story Will Change is a poignant portrait of a woman in transformation and a chronicle of how even the stories we tell ourselves about ourselves are bound to change." —PureWow
"In This Story Will Change, Crane uses her narrative skills to excavate her relationship. Crane writes in the third person, creating emotional distance as though she can objectively describe the dissolution of her own marriage. This technique makes the memoir read more like a novel, akin to Jenny Offill's Dept. of Speculation with short, punchy chapters and unflinching self-analysis." —Bookpage
"This Story Will Change captures the long arc of a marriage and its messy, human ending: ambivalence, heartbreak, deep grief and unexpected flashes of hope and joy . . . Elizabeth Crane's wry, vulnerable memoir chronicles the dissolution of her marriage in sharp, intimate detail." —Shelf Awareness
"In this gorgeous, impressionistic memoir, fiction writer Crane turns to nonfiction to investigate her marriage and its dissolution . . . [She] resists cliché and refuses easy resolution, offering instead a fractured yet richly drawn portrait of a painful year and its surprising gifts." —Booklist (starred review)
"Divorce memoirs come in two main flavors: the doers and the done-to. This is definitely a done-to, with torrents of internal monologue revisiting and rehashing conversations and events, and the author renders it all compellingly and insightfully. Readers who have enjoyed Crane's path through autobiographical fiction are sure to love this refreshing memoir . . . Reading about another person's pain should not be this enjoyable, but Crane's writing, full of wit and charm, makes it so." —Kirkus Reviews (starred review)
"All memoirs claim to be true stories, but I haven't read a truer story than this one. I laugh-cried and cry-cried. Elizabeth Crane's This Story Will Change is not a divorce book. There is no praying, but there is definitely some eating—and plenty of loving, though not in, as she writes, a 'losing one dude and then meeting a new dude and then everything is better' kind of way. What there is, in spades, is truth. And the truth is, the story—the life—changes, and it will keep changing." —Maggie Smith, author of Keep Moving
"Elizabeth Crane has written a book that feels like intimate company and impossible grace. It's also impossible to put down. The momentum of this book doesn't come from making us wonder how the story ends, but from its insistence that the end of the story is just the beginning. Crane is hilarious, generous, and constantly attuned to the complexities and absurdities of her life. In the fragments of this book, she has done the remarkable work of finding a structure that feels like the texture of thought itself: the way the mind returns to the scene of a terrible crime (or a great love) and approaches it from as many angles as possible. This book is picking up the shards of something big and beautiful and broken—a marriage—and rather than trying to put these fragments back together, it uses them to create something utterly new." —Leslie Jamison, author of Make It Scream, Make It Burn
"Elizabeth Crane's debut memoir is a stunning investigation of heartbreak, but it's also an exploration of what it means to rebuild one's life after a long marriage. Poignant, funny, and wise, this is the book you'll be buying for all of your friends." ––Emily Rapp Black, author of Sanctuary
"There is no writer like Elizabeth Crane. This Story Will Change gives us the first year of loss in all its confusion and upheaval; in this case, the gutpunch of divorce. But Crane gives us so much more than a marriage memoir. It's how our bodies move forward—one foot in front of the other, make it to the end of the day—while our heads go back—what the hell just happened and what could I have done differently? The truth of it—in form and feeling as well as story—took my breath away." —Megan Stielstra, author of The Wrong Way to Save Your Life
"Elizabeth Crane has a way of looking at things, almost microscopically, that makes them appear strange and exquisite and infinitely dimensional and evanescent—like vanishing snowflakes. In This Story Will Change, she processes the sudden end of her long marriage by examining it through the prism of property, promises, dreams, expectations, and totemic objects, exploring the stories we tell ourselves and each other in the process of co-creating our lives. With characteristic humor, lightness, and grace, and much in the manner of a jeweler dismantling an intricate watch, Crane reveals marriage as a delicate machine for producing the illusion of permanence as bittersweet consolation against the constant, inevitable, irrevocable change that defines the human condition." —Carina Chocano, author of You Play the Girl
"Elizabeth Crane has written a luminous, devour-in-one-sitting, if-The-Department-of-Speculation-were-a-memoir, sly, hopeful, and intense deconstruction of her long marriage. If you ever had your heart broken, ever wondered whether memory plays tricks with you, or blamed someone else for things that might have been your own fault, read this book. I have been every person in this story in one way or another, and so have you." —Gina Frangello, author of Blow Your House Down