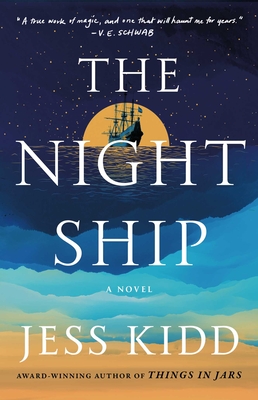 The Night Ship: A Novel
Publication Date:
August 8th, 2023
Publisher:
Washington Square Press
Usually Ships in 1 to 5 Days
Jess Kidd connects the true history of a brutal 1629 shipwreck with the story of a lonely boy in modern day Western Australia with tenderness and vivid storytelling. Epic in scope and heart-wrenchingly detailed, this is Kidd at her best.
October 2022 Indie Next List
Description
Based on a true story, an epic historical novel from the award-winning author of Things in Jars that illuminates the lives of two characters: a girl shipwrecked on an island off Western Australia and, three hundred years later, a boy finding a home with his grandfather on the very same island.
1629: A newly orphaned young girl named Mayken is bound for the Dutch East Indies on the Batavia, one of the greatest ships of the Dutch Golden Age. Curious and mischievous, Mayken spends the long journey going on misadventures above and below the deck, searching for a mythical monster. But the true monsters might be closer than she thinks.
1989: A lonely boy named Gil is sent to live off the coast of Western Australia among the seasonal fishing community where his late mother once resided. There, on the tiny reef-shrouded island, he discovers the story of an infamous shipwreck…
With her trademark "thrilling, mysterious, twisted, but more than anything, beautifully written" (Graham Norton, New York Times bestselling author) storytelling, Jess Kidd weaves "a true work of magic" (V.E. Schwab, author of The Invisible Life of Addie LaRue) about friendship, sacrifice, brutality, and forgiveness.
Praise for The Night Ship: A Novel
Praise for The Night Ship
"Kidd's latest weaves a spell around the reader, transporting them across centuries, between a doomed ship and a dying island. The result is a true work of magic, and one that will haunt me for years." —V.E. SCHWAB, international bestselling author of The Invisible Life of Addie LaRue
Praise for Jess Kidd
"Jess Kidd is so good it isn't fair." —ERIKA SWYLER, bestselling author of The Book of Speculation and Light from Other Stars
"A few pages in and I was determined to read every word Jess Kidd has ever written. " —DIANE SETTERFIELD, for Things in Jars
"Jess Kidd is an author who shows a poet's way with words and rhythm." —Electric Literature
"Jess Kidd has a gift for creating characters you'll love with a few cleverly chosen words." —Good Housekeeping (UK), Book of the Month