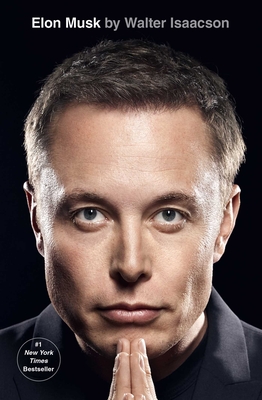 Elon Musk
Publication Date:
September 12th, 2023
Publisher:
Simon & Schuster
Usually Ships in 1 to 5 Days
Description
#1 New York Times bestseller
From the author of Steve Jobs and other bestselling biographies, this is the astonishingly intimate story of the most fascinating and controversial innovator of our era—a rule-breaking visionary who helped to lead the world into the era of electric vehicles, private space exploration, and artificial intelligence. Oh, and took over Twitter.
When Elon Musk was a kid in South Africa, he was regularly beaten by bullies. One day a group pushed him down some concrete steps and kicked him until his face was a swollen ball of flesh. He was in the hospital for a week. But the physical scars were minor compared to the emotional ones inflicted by his father, an engineer, rogue, and charismatic fantasist.
His father's impact on his psyche would linger. He developed into a tough yet vulnerable man-child, prone to abrupt Jekyll-and-Hyde mood swings, with an exceedingly high tolerance for risk, a craving for drama, an epic sense of mission, and a maniacal intensity that was callous and at times destructive.
At the beginning of 2022—after a year marked by SpaceX launching thirty-one rockets into orbit, Tesla selling a million cars, and him becoming the richest man on earth—Musk spoke ruefully about his compulsion to stir up dramas. "I need to shift my mindset away from being in crisis mode, which it has been for about fourteen years now, or arguably most of my life," he said.
It was a wistful comment, not a New Year's resolution. Even as he said it, he was secretly buying up shares of Twitter, the world's ultimate playground. Over the years, whenever he was in a dark place, his mind went back to being bullied on the playground. Now he had the chance to own the playground.
For two years, Isaacson shadowed Musk, attended his meetings, walked his factories with him, and spent hours interviewing him, his family, friends, coworkers, and adversaries. The result is the revealing inside story, filled with amazing tales of triumphs and turmoil, that addresses the question: are the demons that drive Musk also what it takes to drive innovation and progress?
Praise for Elon Musk
Shortlisted for the Financial Times and Schroders Business Book of the Year
"Whatever you think of Mr. Musk, he is a man worth understanding— which makes this a book worth reading." — The Economist
"With Elon Musk, Walter Isaacson offers both an engaging chronicle of his subject's busy life so far and some compelling answers..." — Wall Street Journal
"Walter Isaacson's new biography of Elon Musk, published Monday, delivers as promised — a comprehensive, deeply reported chronicle of the world-shaping tech mogul's life, a twin to the author's similarly thick 2011 biography of Steve Jobs. Details ranging from the personally salacious to the geopolitically volatile have already made the rounds — the rare example of a major book publication causing a news cycle in its own right...What Isaacson's biography reveals through its personalized lens on Musk's work with Tesla, SpaceX, OpenAI, and more is not only what Musk wants, but how and why he plans to do it. The portrait that emerges is one that resembles a hard-charging, frequently alienating Gilded Age-style captain of industry, with a particular fixation on AI that ties everything together....Isaacson's book is like a decoder ring, tying the mercurial Musk's various obsessions into a coherent worldview with a startlingly concrete goal at its center." — Politico
"[The book] has everything you'd expect from a book on Musk—stories of tragedy, triumph, and turmoil.... While the stories are fascinating and guaranteed to spark a mountain of coverage, founders and entrepreneurs will also unearth valuable lessons." — Inc.
"Isaacson has gathered information from the man's admirers and critics. He lays all of it out.... The book is bursting with stories....A deeply engrossing tale of a spectacular American innovator. " — New York Journal of Books
"One of the greatest biographers in America has written a massive book about the richest man in the world. This fast-paced biography, based on more than a hundred interviews...[is] a head-spinning tale about a vain, brilliant, sometimes cruel figure whose ambitions are actively shaping the future of human life."—Ron Charles on CBS Sunday Morning
"A painstakingly excavation of the tortured unquiet mind of the world's richest man… Isaacson's book is not a soaring portrait of a captain of industry, but rather an exhausting ride through the life of a man who seems incapable of happiness." —The Sunday Times
"An experienced biographer's comprehensive study." —The Observer
"Walter Isaacson's all-access biography… Its portrait of the tech maverick is fascinating." —The Telegraph
"Isaacson boils Musk down to two men… the result is a beat-by-beat book that follows him insider important rooms and explores obscure regions of his mind." —The Times